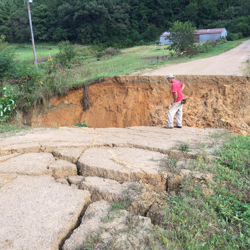 Deep Well Lane in Town of Akan
Photo by  Rebecca Wanless Furbish
Richland County Continues to Recover from Flooding
Last week's flood event caused significant damage to low lying areas in several Richland County townships. Richland County Emergency Management and the Richland County Highway Commissioner are working with other county agencies and the impacted townships to complete damage assessments and determine sources of assistance for those affected.
Current assessments indicated that the county sustained $420,000 in damages during the flooding late last week. These damages, though significant, are unlikely to qualify for FEMA assistance. There may be some funds available through State emergency programs to assist with infrastructure repairs such as to roads and bridges.
This flooding has often been compared to recent flood events throughout the State, such as in Buffalo and Trempealeau counties, as well as the major flooding that hit the region in 2007. Similar to the Richland County flooding, neither Trempealeau nor Buffalo County incurred enough damages to qualify for federal aid. In comparison to the 2007 flooding, there was a significant difference in the assessed damages. While several roads were impacted in the recent flooding, the flooding in 2007 incurred a staggering $5.6 million in damages to buildings and infrastructure.
Though there is unlikely to be financial assistance made available through the State or Federal governments for home owners, individuals who are seeking assistance are encouraged to call Richland County Emergency Management at 647-8187. They may be able to assist you in filing a claim with your insurance, acquiring a cleanup kit if you have not gotten one already, and connecting you to other resources as available. Red Cross cleanup kits have been made available at the Yuba Coop, Turbo's in Hub City, the Natural Bridge Store in Rockbridge, the Boaz Community Building, and the Richland County Emergency Management office.