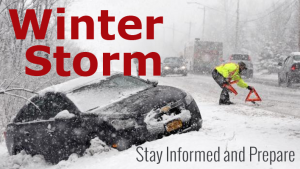 Moderate to heavy snow will impact the morning commute on Monday.
A potent weather system will spread snow into and across the area late tonight, lasting through early Monday afternoon.
Snowfall totals are expected to range from 4 to 7 inches, with the heaviest amounts along and east of the Mississippi River. The Heaviest of the snow will fall during the early and mid morning hours of Monday. Snowfall rates of one inch or more per hour are likely for 2 to 4 hours as the band of heaviest snow moves east across the area, mainly between 5 am and 11 am. These heavy snowfall rates will result in near Whiteouts.
The combination of rapidly falling snow and poor visibilities will have a big impact on the Monday morning commute. Schools delays and closures are also possible.
Plan Ahead for this winter storm and the hazardous travel conditions that will result.
Winter Storm Warning in effect from 3 am to 3 pm CST Monday.
The National Weather Service in La Crosse has issued a Winter Storm Warning for heavy snow, which is in effect from 3 am to 3 pm CST Monday. The Winter Weather Advisory is no longer in effect.
Look for snow to move in late tonight and be heavy at times, especially between 7 am and 10 am Monday morning.
4 to 6 inches of snow are expected. Snowfall rates of one inch or more per hour look likely for a 2 to 4 hour period Monday morning.
Southeast winds of 10 to 20 mph will create some blowing and drifting of the snow, especially in open country areas and on the ridge tops.
Peak travel times Monday morning will be impacted by the snow and poor visibilities. Road Conditions will deteriorate quickly with onset of the snow. Visibilities will be poor in the falling snow, near Whiteout at times, making travel even more dangerous.
http://www.google.org/publicalerts/alert?aid=b6aea9515c3a95c6&hl=en&gl=US&source=web