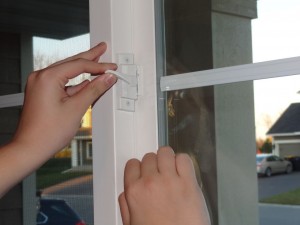 Lock Door and Windows. Notice how when you lock your windows, you can often feel them pushing together more tightly? It makes a difference for your heating bill. Even when doors and windows are closed, they might not be pressed tight against the weatherstripping if they're not locked, which allows cold outside air to infiltrate the home. Lock your windows early, or they may freeze in their current positions.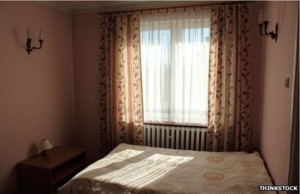 Thick curtains are one of the main ways to protect your house from losing heat through the windows. "The thicker the better," says Archna Luthra, consumer analyst at http://moneysavingexpert.com. If you don't want to splash out on new curtains you can line them yourself with materials like cheap fleece.
But let the sunlight in during the day. It's important to try to use as much natural – and free heat (in the form of sunlight) as possible. Window shades and curtains should be kept open during the day. Closing your curtains as soon as dusk falls will maximize your house's potential to retain that heat.
4.  Cover Windows and Patio Doors with Plastic Film.
Windows can account for 25 percent of heat loss in homes. Covering the windows and sliding patio doors with clear plastic film can reduce that loss by about 14 percent.
The transparent film is inexpensive; you can find it for about $6 for 62 x 84 inches at home centers. The film is simple to put on and won't harm your trim, and if you put it on correctly you'll barely notice it. In the spring, the film comes off easily. Alternatively, self-adhesive foam strips can help seal any gaps in the edges of windows.
5. Keep Warm Air from Escaping Up the Chimney.
The downside to fireplaces is that when they're not in use, your warm indoor air is escaping through chimney. Even when the chimney flue is closed, some warm air is probably still getting away. An easy solution is to block the airflow with an inflatable chimney balloon. The balloons are available on amazon.com and other retailers to fit various chimney sizes. They cost about $50 but can save you up to $100 a year.
Blow up the balloon and stick it in the chimney. If you forget to take it out before you start a fire, the balloon automatically deflates, so it won't cause the house to fill with smoke. However, be advised that the balloons can become sooty and hard to manage after repeated uses.
Learn from the Past. DIY draught excluders are one lesson people can learn from previous generations. One such draught excluder was the "sausage dog," which is vaguely reminiscent of the shape of a dachshund and typically rest at the bottom of doors, stopping heat escaping through the gap between door and floor. A simple draught excluder can be made from cutting an old pair of tights and stuffing them with socks, says Luthra. But the more ambitious can go further. "If you really want to go all out you can decorate them," she says. The stuffing can be almost anything from rice and lentils to gravel, suggests the website Singerdiscount, which also provides a relatively simple guide.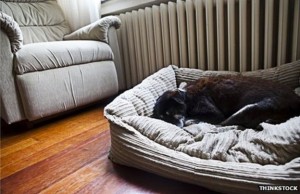 Keep your heating registers clear. The warm air blowing out of your registers needs a clear path into the room to provide even heating. So, if you place your favorite recliner or a sofa over the register, you're limiting the flow of heat. It's like leaving the vent partially or completely closed. To cut heating costs, arrange your room so that the register is as unobstructed as possible.
Putting a shelfabove the radiator, especially if you have high ceilings, can also help channel the warmth to stop the hot air from rising directly above it. This is particularly the case if the radiator is below a window with curtains, where warm air would be trapped between the window and the curtain.
Use tin foil. One way to prevent unnecessary heat loss from radiators, particularly on those attached to external walls, is to use heat reflective aluminium foil behind the radiator. This can prevent heat disappearing through the wall by reflecting it back into the room.
Shut off unusedrooms. Keeping doors closed will prevent cold air moving into the rest of the house and contain the heat you've generated in a smaller area.
Cover bare floorboards. Floors can account for as much as 10% of heat loss if they're not insulated, according to the UK's National Energy Foundation (NEF). Rugs and blankets can help mitigate this and have the added bonus of keeping your feet warm.
12. Seal Air Leaks in Ductwork.
Take a look at the ductwork that's accessible in your basement or attic. Look for places where the ducts may have pulled apart at seams and corners. According to Energy Star, the typical house with forced-air heating loses about 20 to 30 percent of the air that moves through the system to leaks, holes, and poorly connected ducts. Place a mastic sealant or metal tape over any leaks to seal them.
Compiled from: http://www.bbc.com/news/magazine-24757144 and http://www.popularmechanics.com/home/how-to/g737/9-sneaky-ways-to-cut-your-home-heating-bills/