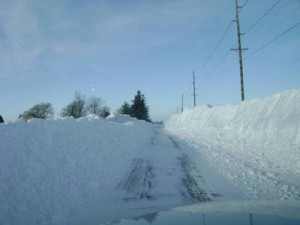 The blizzard is now peaking and causing road closures, stranded vehicles, and accidents throughout SW Wisconsin. Accident numbers and road closures are increasing areawide, especially from I-90 south. Heavy snow will slowly end during the early evening in Wisconsin. Winds will become the main story, especially in the Blizzard warning as winds will gust to 50 mph through early evening. This snow and wind combination AND nightfall will provide for dangerous whiteout conditions, particularly in flat open areas and higher terrain. Refrain from travel if you can do so.
County road crews will end operations @ 8:00 pm tonight.  Road crews have been working since 3:00 am and will resume again at 03:30 am Friday morning.
Local road conditions are worsening; local authorities urge everyone to continue to stay off roadways due to significant drifting and poor visibility.  The public's cooperation thus far has been greatly appreciated.
Continue to monitor local media for further storm updates, road closures and school/business closures. Cancellations and closures will continue to be posted on WRCO Radio.
Contact
Emergency: 9-1-1
Non-emergencies: 608-647-8187